Problems with Meetings and Shared Calendars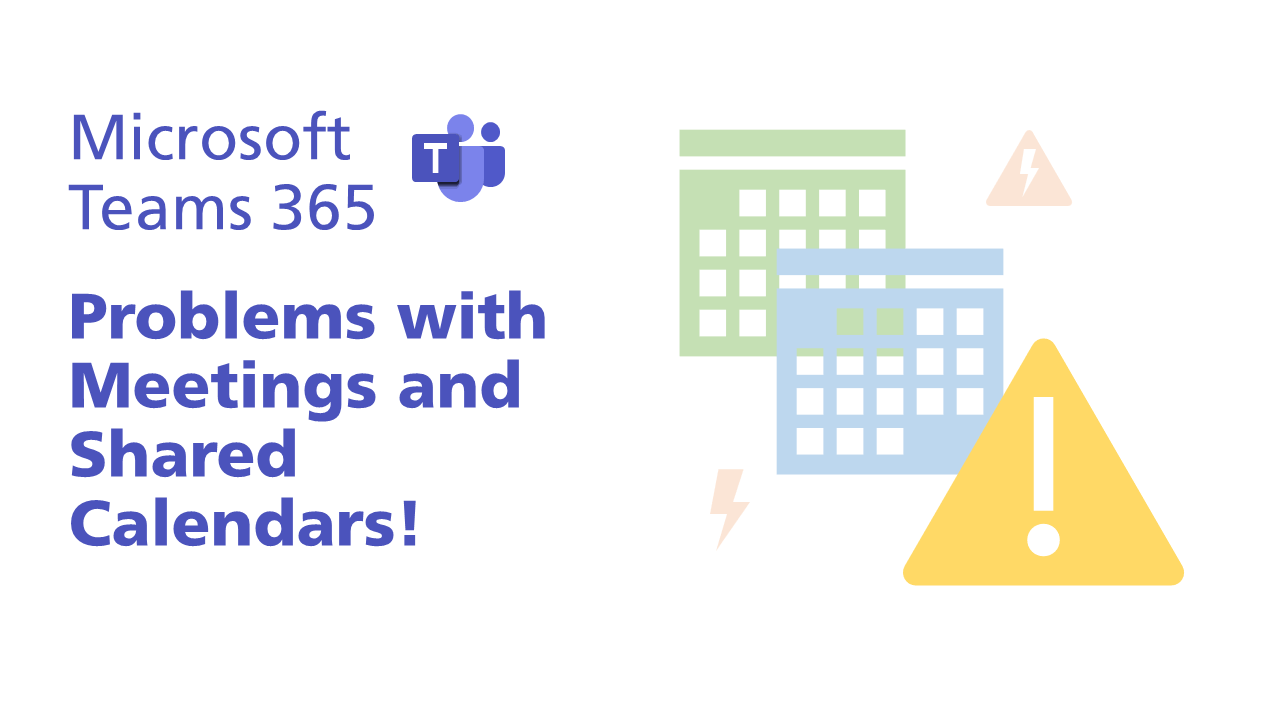 A major issue has come to light with regards to scheduling teams meetings from a generic or shared mailbox (e.g. learning.necsu@nhs.net)  Although meetings can be scheduled this way it has been found that functionality is greatly reduced and all sorts of end user issues have arisen.

The applications training team have received this response from NHSMail Support:

"Please note, due to the nature of how a shared mailbox is configured, it cannot be used to create/send Teams meetings as the mailbox is unlicensed. This means that it does not hold an Office 365 E3 license and no subsequent licensing including a Teams license."

NHSMail Support
So how does the problem come about?
Let's use a scenario: Imagine Alex is responsible for scheduling weekly meetings for her colleagues. For various reasons Alex likes to schedule the teams meetings in a shared calendar that all the team can access. The shared calendar belongs to a generic email address eg financeteam123CCG@nhs.net. Everything seems fine until all sorts of teams functions are unavailable. Some people are able to access certain features and others are not. It is confusing and frustrating.
What is the nature of the problem?
Again using this scenario: Some of Alex's colleagues are able to start meeting recordings and meeting transcriptions but others are not. No one seems to be able to access breakout rooms including Alex who believes that she is the meeting organiser. Some people are able to download the meeting recording but others can't see it at all and some people see it but it's greyed out. A mish mash of other problems and issues arise that don't seem to follow rhyme or reason.
What is Causing these Problems?
We are sorry to bear bad news but Teams has a major problem with meetings which are scheduled in Shared Calendars (i.e. from generic or shared mailboxes). Yes, this is a major downside of Teams and Microsoft have not fixed this to date.

In a nutshell, the email address if you will becomes the Meeting Organiser and no person is the Organiser of the meeting. This throws a big spanner in the works. Teams is designed and licenced for 'real people' e.g. a.smith@nhs.net not financeteam123CCG@nhs.net

A shared Mailbox is not a licenced user, and as it gains the Meeting Organiser privilege, all sorts of odd things happen. It works, but functionality is patchy and erratic. Hence some can access Recording some can't. Some can download transcripts, some can't and so forth.
What's the Solution?
Although we realise that this is not desirable for many, NHSMail Support's recommendation is simply for meetings to be scheduled from individuals and for them to sit in their calendar.

No viable workaround has been devised yet. We have all sorts of limitations such as NHS IG, technical limitations etc.

We have raised this issue and hope that some direction will come soon. [Time of writing July 2021]