The project that gave us a lot of perspective
The Challenge
Our first exposure to suicide awareness came about when we helped build an interactive dashboard that collated and analysed a huge range of data from a wide variety of sources such as police, social services, and all healthcare settings.
This dashboard helped a multi-disciplinary team investigate the information from all recent suicides across the North East and contributed to a region-wide strategy aiming to reduce instances of suicide in our region – which experiences rates higher than the national average.
Yet behind this dashboard, however pretty and clever, was raw data. Raw data and details on real people. Details of how these people ended their lives in some of the loneliest and traumatic circumstances imaginable.
How many of these deaths should have been prevented? Maybe some.
How many of these deaths could have been avoided? Maybe all.
Following on from this work, NECS was commissioned to build and distribute a bespoke eLearning course that would give frontline staff a better understanding of how to spot suicidal thoughts or tendencies in their patients and also give guidance on assessment and treatment.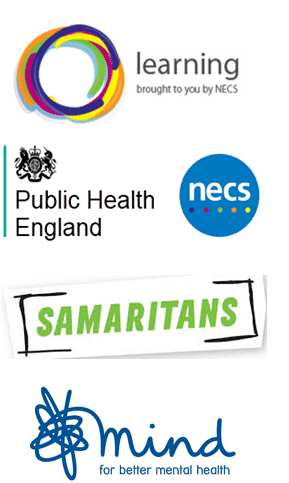 The Solution
We built a custom, interactive eLearning course with information and guidance on a range of topics including:
Mortality rates and maps
Risk factors including video and research papers
Understanding history and behavioural and physical changes
Links to resources such as support groups and other documents
Guides and links to the PHQ-9 and TASR assessment tools
Safety-netting, safety plans and protocols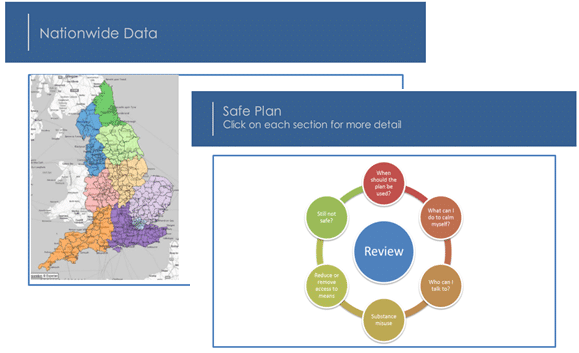 The course is available 24/7/365 and also enables people to make their own notes for future reference.
Upgrades to the course, currently being undertaken, will allow reporting on uptake, course customisation and branching, better feedback to answers and richer content and enhanced interactivity.
The Achievement
After the content was compiled and agreed by the multi-disciplinary team, the package was made available to other 15,000 healthcare practitioners across the North East of England and feedback has been incredibly positive.
Since its launch, NECS has subsequently been commissioned to build a further 3 packages on suicide awareness for the education sector, social care practitioners and community staff.
Should you wish to view a sample of our eLearning packages, please contact robin.warrilow@nhs.net. Thank you.